OUR MISSION:
Support.
Mentor.
Educate.
DeAndre Jordan Treehouse Giving is committed to support, mentor and educate single parent families, by providing enrichment opportunities and resources that enhance the whole family.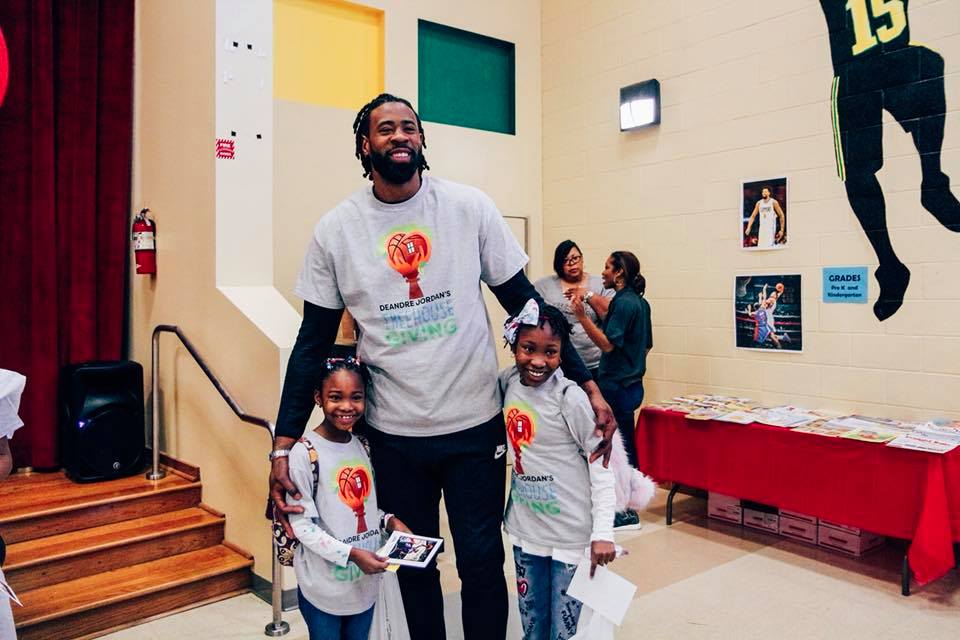 DeAndre Jordan Treehouse Giving is built around DeAndre and his brothers loving bond with their mother Kim, who selflessly created a nurturing environment for her children to grow.
Our Founder
DeAndre Jordan is a professional basketball player for the Los Angeles Clippers, where he has played 10 seasons since being drafted out of Texas A&M in 2008. DeAndre is a 3x All-NBA team member and a 2x All-NBA Defensive team member.
100+
THOUSAND Dollars Raised
For Harvey Relief via the Rebounds to Rebuild program. DeAndre pledged to donate $100 for every rebound during the 2017-2018 NBA Season.
9+
Years Serving communities
Since his Rookie season, DeAndre has given back to several communities, especially Houston and Los Angeles.
400+
pairs of shoes donated
to students at Thompson Elementary School through DeAndre's Shoes that Fit Program, post Hurricane Harvey.
REBOUNDS TO REBUILD
Known in the NBA for his 10+ rebounds per game, Rebounds to Rebuild was started as DeAndre's way to assist victims in Houston recover after the devastation caused by Hurricane Harvey. DJ has pledged to donate $100 per rebound grabbed during the 2017-2018 NBA season with a minimum commitment of $100k.
shoes that fit
Wearing a size 18 shoe gives you a great appreciation for wearing shoes that are comfortable and fit. A new pair of shoes for a school aged child can be life changing for a child in need. Giving shoes to a child in need also gives Hope, Dignity and Joy.
DJ'S 6 days of giving
DJ's 6 Days of Giving focuses on creating 6 meaningful experiences in the days leading up to Christmas. The program kicked off in 2017 with a DAY 1 shopping spree at MATTEL for 100 kids from the "Why Can't We Make a Difference Foundation.
TIMEOUT FOR READING
Ms. Kim's Timeout for Reading is a literary initiative, launched in March 2018 at Thompson Elementary (Houston, TX), with the goal of encouraging kids to develop a love for reading. Thompson Elementary is one the places that DeAndre has some of his fondest childhood memories.
"
december 2017
Anytime you can help the kids out who are in need and families who are in need its amazing...it puts a smile on my face.
DeAndre Jordan / Watch Video